Global Fashion Management EMBA students and faculty from IFM visited Maison Liangzi in Paris
Shenzhen, China, 2nd Mar 2023 – TANGY Collection, a must-have sustainable fashion course for managers of top luxury groups
"I discovered this brand and I think it's very nice, I love the lightness of the clothes and the story of this fabric, the traditional craftsmanship of hand-made handed down from thousands of years ago, that's why I was conquered by this brand. Thank you very much! –Pierre DIRINGER"
"It was a very surprising discovery, the clothes were very comfortable, light to wear, very soft to the touch, very well fitted, it was a beautiful encounter. –Cecile ESTIEU"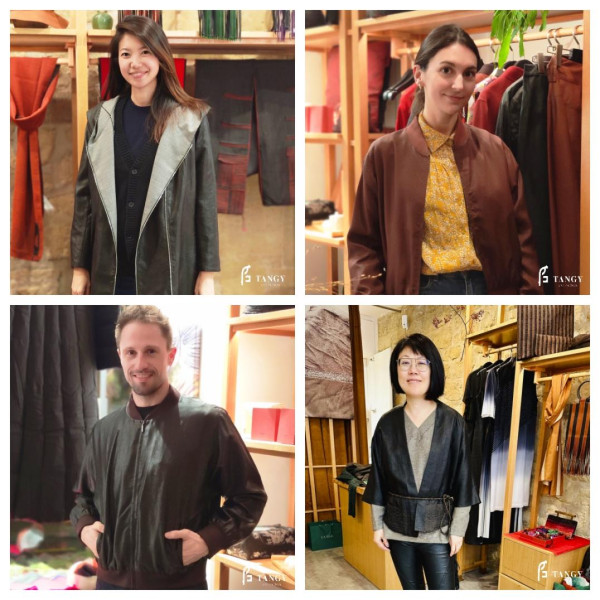 At the beginning of the new year, Véronique, a professor of French Fashion Institute, came to the "Maison Liangzi" in Paris with the EMBA of global fashion management, taking the sustainable eco-fashion system of TANGY brand as a vivid teaching material for fashion management, and learning from Liangzi about eco-fashion and sustainable development.
In the afternoon of January 5th, 2023, Liang Zi, the founder and design director of TANGY and TANGY Collection, shared with the Global Fashion Management EMBA in Paris the experience and innovative model of sustainable fashion in the past thirty years.
Everyone was deeply attracted by Liangzi's artistic creation and humanized design, as well as the charm of TANGY's brand sustainable fashion, and felt TANGY's cultural depth and the power of leading sustainable fashion.
After listening to Liang's sharing, everyone was very impressed and moved by the TANGY brand's persistent efforts to protect and fashionably revitalize gambiered silk for nearly 30 years! The fashion elites with unique aesthetic taste soon found the suitable TANGY Silk clothing for themselves and scrambled to experience the sustainable fashion brought to them by TANGY Collection from the inside out with healthy beauty ……
Liangzi carefully selected and matched the gambiered silk clothing suitable for the students and faculty of Global Fashion Management EMBA. The luster and lightness of the fabric, the subtle ingenuity and international aesthetics of Liangzi's designs stunned everyone present.
The students and teachers left the Maison Liangzi until late night. At the end of the day, IFM students and faculty members sent New Year wishes in Chinese to the TANGY fans at the Maison Liangzi in Paris.
Through nearly thirty years of efforts, TANGY has brought the traditional handcrafted planet-dyed silk, which is on the verge of disappearing, to the world fashion stage and conveyed TANGY's sustainable development brand concept to the world.
The EMBA in Global Fashion Management of the French Fashion Institute meets pure eco-friendly sustainable luxury at the "Maison Liangzi" in Paris. The beautiful story of the TANGY Collection continues……
Media Contact
Organization: Tangy
Contact Person: Lu Ge
Email: gelu@tangy.com.cn
Phone: +86 13006639900
Website: http://www.tangy.com.cn
City: Shenzhen
Country: China
Release Id: 0203232665
The post Global Fashion Management EMBA students and faculty from IFM visited Maison Liangzi in Paris appeared first on King Newswire.
Disclaimer: The views, suggestions, and opinions expressed here are the sole responsibility of the experts. No Tech Musement journalist was involved in the writing and production of this article.